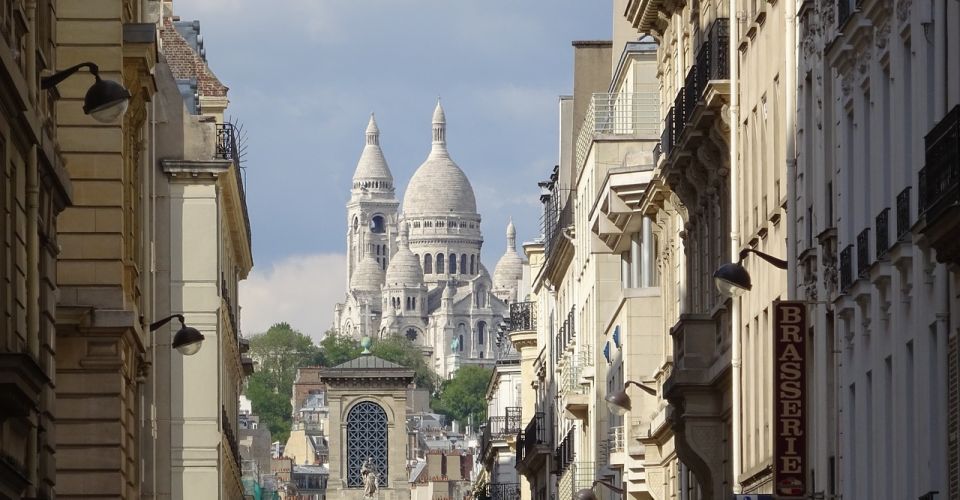 Eiffel Tower
A not-to-be-missed monument and symbol of the capital, the Eiffel Tower stands 324 m tall, and weighs 10,100 tons. Created in 2 years, 2 months and 5 days, it was built for the Exposition Universelle of 1889 by Gustave Eiffel.
You can go up the Eiffel Tower by the stairs or by lift. On the completely refurbished 1st floor, there are shops; on the 2nd, treat yourself to a gastronomic meal at the famous Jules Verne restaurant, 125 metres above ground. Finally on the 3rd floor you are at cloud level and have an exceptional 360° view!
Viewpoint indicator on the 3rd floor of the Eiffel Tower.
Basilique du Sacré Cœur
The Sacré-Coeur, consecrated in 1919, is one of the most iconic monuments in Paris. At the top of the Butte Montmarte, it has one of the most beautiful panoramic views of the capital, from 130 metres above ground. In a Roman-Byzantine style, the Sacré Coeur is recognizable by its white colour. Inside the building, the ceiling is decorated with the largest mosaic in France measuring about 480 m². The crypt is also worth a visit. And to go even higher up, visitors can access the dome where the 360° view of Paris is magnificent.
The Louvre museum
Every trip to the capital deserves a visit to the Louvre to discover the wealth of treasures it contains. The museum houses western works of art dating from the Middle Ages to 1848, in addition to collections of ancient oriental, Egyptian, Greek, Etruscan and Roman civilizations, as well as graphic and Islamic arts. From room to room, the former royal palace reveals its masterpieces to the public: the Mona Lisa, The Raft of the Medusa, the Venus de Milo, and The Winged Victory of Samothrace. In total, there are 35,000 works to be discovered or re-discovered! With its eight hundred year old history, the Louvre has been influenced by numerous architectural trends, from the medieval fortress of the 12th century to the glass pyramid by Pei (1989).
Place de la Concorde
Place de la Concorde is situated at the end of the Champs-Elysées. Today it is famous for the Luxor Obelisk (a 3,300 year old Egyptian obelisk erected on the square in October 1836), the surrounding prestigious hotels, and the two monumental fountains (Fontaine des Mers and Fontaine des Fleuves). Created in 1772, Place de la Concorde was originally known for having been an execution site during the French Revolution. Louis XVI and Marie-Antoinette (among others) were guillotined here. Between 1836 and 1846 the place was redesigned to become what it is today.